"make believe" – a portrait series of women in the arts who have impacted my life, accompanied by my stories – and stories other people have shared with me – in an effort to champion the arts, build a community, gain strength through vulnerability, and heal
The Story
Sometimes it amazes me just how many of the women in my "make believe" series came into my life (or back in, in Kim's case) because of Supernatural. But I know it's no coincidence that Supernatural entered my life when it did, or that its women are powerhouses of talent and courage, both on and off screen. They showed up in my life when I needed them most, and Samantha Ferris was the first SPN woman to make waves in my life.
I spent most of my life unable to cry. It's not like I actually, physically couldn't, but someone in my life would die and the tears just wouldn't come, no matter how sad I was. I would feel guilty for not looking appropriately upset. Sad books, sad movies, terrible news on the TV – nothin'. (Alright, except for once at the end of The Notebook – I think I scared my cousins haha – and a few times when I got really angry)
So really, when my mom passed away a few years ago and the most I could manage was to tear up a few times, I expected it.
But it had been a long (short) seven months, and I knew it was only a matter of time before I exploded in some way, or short-circuited. I was due to crash.
Like I said in Kim's post, I started watching Supernatural a couple weeks after my mom died, and I powered through the first five or so seasons pretty quickly. Samantha's character, Ellen, showed up in Season 2, and I was immediately attached. Tough, strong, a fierce fighter and survivor and an even fiercer mother (to her daughter and a surrogate mom to Sam and Dean), Ellen spoke to me on a deeper level. Season 5 came along, though, and in "Abandon All Hope," Ellen and her daughter Jo die, sacrificing themselves to save Sam and Dean so they could save the world. Their final scene, watching them fight for the family they loved and for the world until the bitter, tragic end completely shattered all of my walls. Sam's acting in that episode, and in that final scene in particular, is utterly brilliant. (There's one specific moment where she breaks me every single time I watch the episode.) That first time watching it, I sobbed harder than I can ever remember crying before. I needed that.
Of course, now I cry at the drop of a hat (seriously, crying at a Marriott commercial? who does that??), but I'm slowly learning how cathartic it can be, how I'd rather feel and show that compassion for myself and for others than not be compelled to help other people, how to show myself grace. I'm choosing to see my vulnerability as a strength.
So thank you, Sam, for portraying Ellen so beautifully and helping me break through walls that were quickly becoming toxic. And thank you for the strength and the determination to stand up for what you believe in that you exemplify in real life, too! It does not go unnoticed <3
The Art
"She needed a hero" – This is it. This right here is the scene in "Abandon All Hope" that does it for me every single time. And I had to add the quote in there because it describes Ellen and Jo so well, and it never fails to inspire me. "She needed a hero, so that's what she became." I am selling prints of this picture, 12 x 9 in on heavy paper, and you can buy them in my Shop!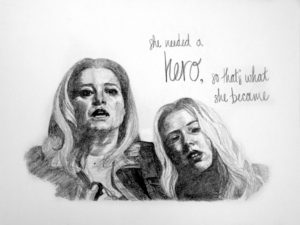 "Kick it in the ass" – An earlier scene from the same episode, before sacrificing herself to save the boys, Ellen tells Dean to "kick it in the ass." It's a phrase that came from Kim Manners, a Supernatural producer and director who passed away in 2009 after battling cancer, and it has become one of the SPN Family rallying cries. 36 x 24 in, oil on stretched canvas, also for sale in my Shop.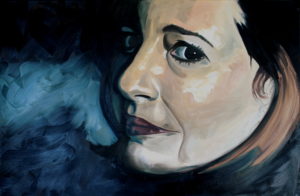 Until Next Time…
If you would like to contribute a story about how one of the ladies in my series has impacted your life, shoot me an email at elizabeth@byelizabethhope.com with the subject line "story time." Your story can be anything from how one of these women has impacted your life to how you relate to a fictional character one of these women portrayed or wrote about to a favorite memory you have of one of these ladies. There's no word limit, just let me know if you'd like me to quote your story directly or paraphrase it and if you'd like to be kept anonymous or not. I'll be sharing these stories in my Instagram posts and on my blog. And if you submit a story, I will give you the portrait print of your choice for free! All you have to pay is $10 for shipping! If you missed the post explaining this series, you can read it HERE 🙂
"She needed a hero, she that's what she became."