"make believe" – a portrait series of women in the arts who have impacted my life, accompanied by my stories – and stories other people have shared with me – in an effort to champion the arts, build a community, gain strength through vulnerability, and heal
The Story
And another one. These Supernatural ladies are taking over! I'm talking world domination led by a revolution of power, kindness, and love.
Sam Smith's journey with Supernatural has to be one of my favorite stories because her character, Mary Winchester – Sam and Dean's mom – died in the very first episode TWELVE YEARS ago, and now she's back, alive, and another fabulously complex female character. (Side note: even dead for 11 seasons, Mary was one of the most integral parts of SPN) It's funny though, Sam/Mary is THE mom of Supernatural, and yet that's not the reason she's had such an impact on my life, despite what you might think based on the fact that I've talked about my mom's death in a few of my previous posts. If I were to focus on her role as a mom, I'd really have to talk about Dean. He's the one I relate to in that dynamic. I see myself in him every time he shits down, pushes his feelings to the side, deals with his emotions in unhealthy ways. And this past season and a half, watching him come to terms with first Mary's return and then apparent "death" again, I have understood every single moment of his disbelief, joy, mixed emotions, reluctance to let himself believe there was still hope, that Mary could still be alive. There were times Dean would rather discredit even the slightest hint that Lucifer hadn't immediately killed Mary in the AU (AU = alternate universe, and yes, the Lucifer) than allow himself to hope and fight and then be crushed by grief again – and I get that.
But I digress.
It's not Sam's role as a mom that speaks to me, it's the complexity of her character, her struggles and her authenticity. Her raw determination and honesty. Putting aside the fact that Mary is Sam and Dean's mom, I relate to her because she's finding out who she is, where she fits in the world. From Sam and Dean's perspective, everything should make sense and be easy now that she's back, but a lot has changed for her in a short period of time, and she doesn't let anyone else tell her how she's "supposed" to be dealing with her circumstances. She's back where she's supposed to belong, and she loves her family, but she also recognizes she still needs to grieve her own losses and process things her own way. People expect certain things of her, and she defies those expectations. The path she is choosing might be hard, but she knows she has to find out for herself. With my mom passing away three years ago and a lot of major life changes happening since then, I often feel like I'm in a place where things should make sense, certain things should be easier and I feel the expectations, real or imagined, from my family and friends of how I should be acting or feeling at any given time (I'm too sad or not sad enough or because of my mom I should or shouldn't be doing X). So watching Mary's journey on Supernatural feels familiar to me, and in some ways it validates my own struggles. I feel empowered to continue and find my own path and know that sometimes the way through is hard and messy but it does get you through.
And as for Sam in real life: LIGHT. Joy mixed with kindness and compassion and a fighting spirit that is so uplifting. Recently, Sam was a part of a photoshoot, and the photographer Travis Hodges described her perfectly in an Instagram post when he said, "…if Sam wasn't her name it should be Grace, because she is overflowing with it. Sam has a humble, natural elegance about her…. She is powerful, yet humble. Direct, yet kind." That's exactly it, Sam is grace personified.
Thank you, Sam, for the depth you bring to Mary for giving voice to a complex, realistic struggle that I recognize in myself. And thank you for the light you shine – I appreciate it, I appreciate you, so very much <3
The Art
"unsettled" – Sometimes I just look at the expression on someone's face and instantly something in me cries out, yes! When I see this picture of Sam (as Mary in the Supernatural episode "The Foundry"), I see someone who is unsettled. Not in a nervous or scared kind of way, but in an agitated kind of way – needing to do something or go somewhere or be someone else but not having either the ability or opportunity to make a change. Stuck. I've felt that often enough. I am selling prints of this picture, 12 x 9 in on heavy paper, and you can buy them in my Shop!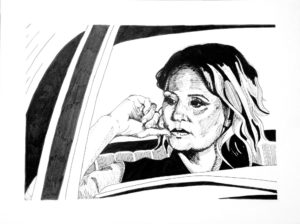 "Mom?" – From burning on a ceiling to showing up in the middle of a park in her nightgown after being dead for approximately three decades, Sam has at least two of the most iconic Supernatural moments 😉 I had to paint this one! 24 x 36 in, oil on stretched canvas, also for sale in my Shop.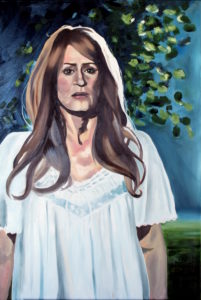 Until Next Time…
If you would like to contribute a story about how one of the ladies in my series has impacted your life, shoot me an email at elizabeth@byelizabethhope.com with the subject line "story time." Your story can be anything from how one of these women has impacted your life to how you relate to a fictional character one of these women portrayed or wrote about to a favorite memory you have of one of these ladies. There's no word limit, just let me know if you'd like me to quote your story directly or paraphrase it and if you'd like to be kept anonymous or not. I'll be sharing these stories in my Instagram posts and on my blog. And if you submit a story, I will give you the portrait print of your choice for free! All you have to pay is $10 for shipping! If you missed the post explaining this series, you can read it HERE 🙂
So what's your favorite Sam Smith or Mary Winchester moment or quality?? Drop a comment below and let me know!