"make believe" – a portrait series of women in the arts who have impacted my life, accompanied by my stories – and stories other people have shared with me – in an effort to champion the arts, build a community, gain strength through vulnerability, and heal
The Story
Memories are strange things. There are certain memories from 10+ years ago that I can remember better than things I did just last week. Sometimes I remember general events and other times it's the nitty gritty details that stick out the most. At any rate, I can't remember the first time I saw Meryl Streep act, but I can remember the first time I noticed her like it was yesterday.
Growing up, there were a lot of kids in my neighborhood, and we roamed around like a small gang – riding bikes, playing soccer, sitting around in our garages (I feel like we did a lot of sitting in garages), eating popsicles, etc. When we went inside though, we almost always went to one friend's house because her family had ALL the video games and ALL the movies and THE biggest TV you've ever seen. Or at least the biggest TV a bunch of '90s kids had ever seen 😉 And one day we all settled into her basement, in front of the TV, to watch A Series of Unfortunate Events.
If you're not familiar with A Series of Unfortunate Events (a book series that was made into a movie in 2004 and, most recently, a TV series in 2017), the basic premise is that three orphaned children are passed from house to house after the deaths of their parents – they would have just stayed in one place, but a series of unfortunate events (get it? 😉) complicates matters. At one point the children end up with Aunt Josephine (played by Meryl Streep), a woman who is afraid of everything. She eats cold soup because the stove could explode. She's afraid she'll trip on a welcome mat and decapitate herself or touch a glass doorknob and have it shatter and get in her eyes. Even though the subject matter of the series is actually pretty dark – a lot of people die – it's all portrayed in a dry, sarcastic, morbidly funny kind of way. And most of the adult characters aren't to be taken seriously. So this family movie is not supposed to be overly depressing or sad, even as characters are dying. But when Aunt Josephine eventually died as we all sat in that basement, my gut twisted and my chest ached and I couldn't understand why everyone else still thought the movie was so funny. I wanted to stop the movie, rewind, and watching the scene again and again until I figured out why I reacted to the death so strongly. Meryl had embodied Aunt Josephine so completely that I actually, physically felt something when her character died.
I first noticed Meryl Streep in A Series of Unfortunate Events, and I've been paying attention to her ever since.
[Side note: this instance is also the first memory I have of any movie making me feel something so strongly]
With each character Meryl plays, she becomes the character, and her transformations have impacted me in three main ways:
I learn from Meryl's characters. She has said, "Acting is not about being someone different. It's finding the similarity in what is apparently different, then finding myself in there." She is somehow able to find a way to relate to each character she plays, and in so doing she compels audiences to see their own similarities in the characters – we learn so much from people when we find we can relate to them, even in the smallest of ways. Granted, it's not always pleasant to learn certain things about yourself, about your personality or character (as humans we don't like seeing our flaws reflected back at us), but once you've learned whatever it is, you have the power to change it.
Meryl's moving performances, the ones that twist my gut and make my chest ache, help me examine my reactions, help me pay attention to what specifically caused me to react so instinctually, so involuntarily – and yes, when I'm alone I rewind and rewatch scenes as many times as I like haha I use a lot of what I learn in those moments to improve my descriptions and imagery and pacing when I'm writing fiction and add extra layers and dimension to my art, whether that's a hand gesture informing a composition or a gut feeling translating into a specific color choice.
Meryl's movies have transported me to so many different times and places! I love traveling, I've had my share of adventures (and I'm not finished by a long shot), but the time periods and worlds and people I've met through the movies she's been in and the characters she's played – it's just incredible. And again, learning. Learning more about life outside of my little corner of the world. Knowledge is power. And compassion.
I'm not saying Meryl Streep is the only person who can affect me with their acting, but there is just something about that woman. As one of my mom's favorite characters in one of her favorite TV shows once said, "Meryl Streep could play Batman and be the right choice. She is perfection" (Cam on Modern Family) 🙂
The Art
"I'm checkin' out" – this pencil and charcoal drawing is based off a scene in Postcards from the Edge, and the title is in reference to the song at the end of the movie – "I'm checkin' out of this heartbreak hotel." I am selling prints of this picture, 12 x 9 in on heavy paper, and you can buy them in my Shop!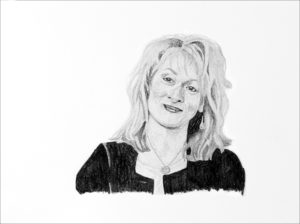 "On the Edge" – this oil painting is based off an earlier scene in the same movie, when Meryl's character, Suzanne, is watching her mother perform at a party. I love this image because despite how often and how viciously Suzanne and her mother fight, it's still clearly obvious that they adore each other. Plus, Postcards from the Edge is a semi-autobiographical novel by Carrie Fisher, so there is the added dimension of Suzanne and her mother being based on Carrie and Debbie (talk about making me feel something!). 2 x 2 ft, oil on stretched canvas, also for sale in my Shop.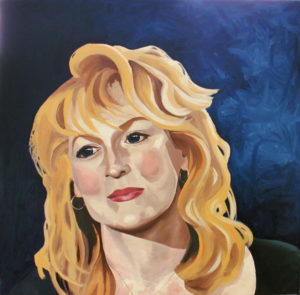 Until Next Time…
If you would like to contribute a story about how one of the ladies in my series has impacted your life, shoot me an email at elizabeth@byelizabethhope.com with the subject line "story time." Your story can be anything from how one of these women has impacted your life to how you relate to a fictional character one of these women portrayed or wrote about to a favorite memory you have of one of these ladies. There's no word limit, just let me know if you'd like me to quote your story directly or paraphrase it and if you'd like to be kept anonymous or not. I'll be sharing these stories in my Instagram posts and on my blog. And if you submit a story, I will give you the portrait print of your choice for free! All you have to pay is $10 for shipping! If you missed the post explaining this series, you can read it HERE 🙂
I'd also love to hear your thoughts on this post! Have you seen A Series of Unfortunate Events or Postcards from the Edge? What are some of your favorite Meryl Streep roles and/or her roles that have really affected you?