"make believe" – a portrait series of women in the arts who have impacted my life, accompanied by my stories – and stories other people have shared with me – in an effort to champion the arts, build a community, gain strength through vulnerability, and heal
The Story
Kim Rhodes. I first became aware of Kim when I was fourteen and the Disney Channel was one of the few channels my family would all watch together (it was either that, Food Network, or USA – Psych, anyone?). Kim played the mom on The Suite Life of Zack & Cody, and she was my favorite character. Hands down.
My mom really liked Kim, too. You could tell because nearly every time she talked about changing her hair style (which she never ended up doing, only the color ever changed) she'd ask, "What about the mom on Zack & Cody? I like her hair, what about that style for me?" If you weren't aware, that is a big compliment haha
Now fast forward to nine years later, 2014.
My mom was diagnosed with a brain tumor in the summer of 2014, cancer, and passed away at the end of that year. If that sounds cold or clinical or detached, it's only because that's the easiest way for me to deal with it. But hey, working through my feelings is one of the reasons I started "make believe," so maybe I'll get better at this.
So at the beginning of 2015, just a couple weeks later, two of my good friends started having me over to their place once a week. We'd eat dinner, watch TV, hang out – they got me out of the house and spent time with me and made things easy, and I'm so grateful for that, for them. One of the first shows we started watching together during that time, a show they introduced me to, was Supernatural.
And now we're back to Kim!
I could go on and on about Supernatural – I'm not exaggerating when I say the show and the fandom community have been life-changing and they include some of the best people I have ever had the privilege of knowing and interacting with (seriously, ask me about it sometime) – but the point is that Kim appeared as Sheriff Jody Mills in Season 5 and walked back into my life. (Spoiler alert: eight seasons later Kim is still on the show and is one of the leads in a new Supernatural spin-off they're airing a backdoor pilot for in the upcoming Season 13, Wayward Sisters – I. Can't. Wait.)
Over the past two and a half years, Kim (and Jody) has taught me, encouraged me, and comforted me. She leads by example and makes sure you know she's walking right there beside you at the same time. I'm featuring Kim in this portrait series because:
I deeply relate to her character on Supernatural and how she deals – or maybe mostly doesn't deal – with her grief
Her character on Supernatural is something of a surrogate mother to Sam and Dean, the show's leads, and other younger characters. It's one of my favorite aspects of her character because, honestly, I miss being mothered
She's helping lead the Wayward Daughters revolution, which, at its core, is a group of women (guys are allowed, too 😉 ) loving on, including, supporting, encouraging, and empowering each other. There is room at the table for everyone, and we have an endless supply of chairs
She leads by example and shows me what compassion looks like on a regular basis
My mom never knew Kim as Jody Mills, but that connection is there, nevertheless, and I love that reminder of my mom
This one might sound obvious, but it's been so profound – she showed me that if I put my heart out there, then maybe someone will see it
She's helped me see that fear is real and valid, and I can acknowledge it, but I don't have to let it dictate how I act and what I believe and how I love myself and others
She taught me that it's okay to not be okay (last week Jess, a fellow Supernatural fan, shared with me that Kim has taught her the same thing), AND it's okay to accept help. In a world where presenting a confident, put together front is seen as strength, Kim taught me that vulnerability and authenticity can be strengths. If we're open and honest and real with each other, not only are we helping our own mental health, but we can also help other people. When we're vulnerable and open, we can come alongside each other and support each other. "Me too" are two of the most powerful words I've ever heard
I've always looked up to strong, authentic, kind women as role models, but I've taken notice of them more and more since my mom passed. And even if some of them are women I've never met in person, I'm grateful for their roles in my life – I know God put them there for a reason.
Kim has meant so much to me since my mom died, it's hard to explain it in any sort of eloquent way. But I fully believe it is thanks to her that I have started letting people in, letting people see me vulnerable, letting people help me. I still put up a front emotionally more often than not, but I'm working on it. And this portrait series is a big part of that.
So if you ever read this, Kim, thank you, from the bottom of my heart. I can never thank you enough <3
The Art
"Strong AF" – For those who know Kim, the title of this piece is self-explanatory. Whether she's being bold and bubbly and confident or serious and more reserved and speaking from one soul to another, there is no doubt that Kim is wayward, inspiring, and strong AF. I drew this first picture based off a reference image I found on Tumblr (you can see it HERE). The picture was taken at a Supernatural convention – those conventions are unreal, and I absolutely will get myself to one someday 😉 I am selling prints of this picture, 9 x 12 in on heavy paper, and you can buy them in my Shop!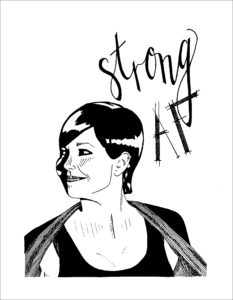 "Haunted" – this oil painting is based off a scene in Kim's first episode on Supernatural, "Dead Men Don't Wear Plaid." I chose this particular scene because I think there is often a beauty in the rawness and stark emotion in a person's face. 3 x 2 ft, oil on stretched canvas, also for sale in my Shop.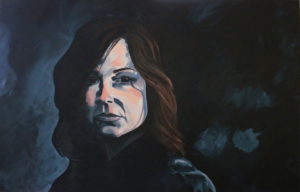 Until Next Time…
If you would like to contribute a story about how one of the ladies in my series has impacted your life, shoot me an email at elizabeth@byelizabethhope.com with the subject line "story time." Your story can be anything from how one of these women has impacted your life to how you relate to a fictional character one of these women portrayed or wrote about to a favorite memory you have of one of these ladies. There's no word limit, just let me know if you'd like me to quote your story directly or paraphrase it and if you'd like to be kept anonymous or not. I'll be sharing these stories in my Instagram posts and on my blog. And if you submit a story, I will give you the portrait print of your choice for free! All you have to pay is $10 for shipping! If you missed the post explaining this series, you can read it HERE 🙂 Also, I know some of you are here from the SPNFamily — make sure to check out the list of women I'm featuring, because it includes more of our SPN ladies! 😉
Finally, in an effort to follow Kim's lead and to pay it forward, if you ever need to talk or need support or want someone to say "me too" or even just "that really sucks," I'm here. You can comment on this post, email me, or whatever you are most comfortable with. You are enough, you are worth it, and you deserve to be heard! I promise.