"make believe" – a portrait series of women in the arts who have impacted my life, accompanied by my stories – and stories other people have shared with me – in an effort to champion the arts, build a community, gain strength through vulnerability, and heal
The Story
Fair Warning: unintentional magical puns ahead. They weren't meant to be funny, I promise, it just comes with the territory haha
The summer after my freshman year in college my best friend told me, "Elizabeth, I love Harry Potter, and I need to be able to talk to you about it, so you're watching the movies, at the very least." Or something like that 😉 So we watched the first six movies all in one weekend – the last two movies weren't out yet – I immediately bought all the books and read them within the month, and the rest is history!
It may sound dramatic, but I think JK Rowling has created one of the biggest shared experiences of the 21st century thus far. Think about it – everyone has heard of her, and I think more of my friends and family have read the Harry Potter books, and/or watched the movies, than haven't. I know people in their seventies who have read the HP series, and I know people who grew up with Harry and are reading the books with their children now! And when in doubt, bringing up Harry Potter is usually a great way to make new friends 😉
JK Rowling – and her writing – has done so much good for me, my friends, and the world – here is a mere sampling of the many reasons I've included this brilliant woman in my "make believe" series:
The most obvious reason: Harry Potter. JKR created a world so detailed, so compelling, so magical, that there are movies and spin-off books and movies and a spell-binding theatrical production and theme parks and, most importantly, it got kids to read. And even more than that, studies have been done that show kids who read Harry Potter are more likely to be empathetic, more likely to take the time to understand someone before judging them or jumping to conclusions. How amazing is that??
JKR created female characters in the HP series who are role models now for so many people, but especially women and little girls. (Hermione Granger and Minerva McGonagall are two of my favorites) Her female characters are strong and loving and flawed. They are smart and resourceful and brave. They are students and teachers and moms and grandmothers. And they are so very inspiring in all their complexities and authenticity. Now get this, I asked other people what JKR has meant to them, and my friend Courtney replied, in an eerily similar response to my own, "JK Rowling taught me, through Hermione, that I can be many things at once. I can be kind and firm. I can be sad and powerful. I can be whimsical and brilliant. I can be practical and hopeful. I have always held onto that truth first found in Hermione: that girls and women are a force to be reckoned with." <3
Her non-Harry Potter novels are just as brilliant, if not more so in some ways, and they are gritty and dark and raw in a way that forces you to face the entire world, recognize everyone, not just the nice places and "good" people. Plus, I just really love a good true crime novel 😉
Lumos – JKR founded Lumos, an international NGO that "works to support the 8 million children in institutions worldwide to regain their right to a family life and to end the institutionalisation of children" (you can find out more about Lumos HERE). She is using the money and influence she's gained from becoming a successful author to help others.
There is such a large, inclusive HP community now that it's a great way to connect with other people, find a sense of community where you might not have had one before. Sarah, someone I talked to recently, said, "The Harry Potter series taught me [at] an early age that it's ok to be different."
Fan fiction. When I first read the HP series, I blew through them and wanted more. That's when I discovered fan fiction. But as much as I love reading fan fiction (there is some seriously good stuff out there!), I also love writing it! I love writing fiction in general, but I'm not always good at world building, so writing fan fiction gives me the building blocks I need to get started. FF is a great way for me to practice my writing skills, receive constructive criticism and/or encouragement, explore missing moments, expound on thought processes and subtle moments in the books, and work through some of my own thoughts and emotions. It's a very therapeutic experience for me. I've also met some really great people through reading and writing FF, and one in particular that I met through HP FF is now a wonderful friend who has helped me through a lot in the past few years <3
There is so much more I could say! Another gal I know shared JKR's impact on her life with me, and she summed it all up quite well: "JK Rowling is a major influence and inspiration for me. I quite literally grew up with Harry Potter. Hermione and Professor McGonagall were such powerhouse, badass females. Now, as a writer, I find inspiration in her personal story. Also – she's a complete badass on Twitter." (p.s. Katie's right about the Twitter thing, folks 😉 haha)
Thank you, JK Rowling – for the magic, for all of your novels, for creating a place so many call home, for a wonderful community, for showing me how to find my courage.
The Art
"find your magic" – There's magic in this world, but it doesn't always just show up. Sometimes you have to put in the effort — like JK Rowling did, like she still does — and go looking for it. I am selling prints of this picture,12 x 9 in on heavy paper, and you can buy them in my Shop!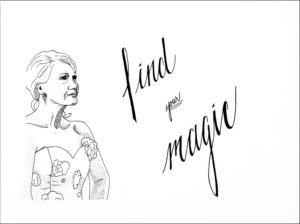 "Inexhaustible Magic" – "Words are, in my not-so-humble opinion, our most inexhaustible source of magic. Capable of both inflicting injury, and remedying it." (Dumbledore, in The Deathly Hallows, by JK Rowling) I have always loved that quote, and the power of words, the magic they have (I keep using that word, and I'm not trying to be punny! haha), has always affected me. It's why I read ALL the time! The words in the background of this painting are the names of different characters in the Harry Potter series. If you haven't already, look up the meanings and backgrounds of these names — JKR picked each name for a reason! 30 x 24 in, oil on stretched canvas, also for sale in my Shop.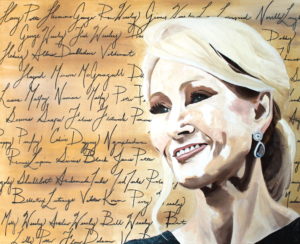 Until Next Time…
If you would like to contribute a story about how one of the ladies in my series has impacted your life, shoot me an email at elizabeth@byelizabethhope.com with the subject line "story time." Your story can be anything from how one of these women has impacted your life to how you relate to a fictional character one of these women portrayed or wrote about to a favorite memory you have of one of these ladies. There's no word limit, just let me know if you'd like me to quote your story directly or paraphrase it and if you'd like to be kept anonymous or not. I'll be sharing these stories in my Instagram posts and on my blog. And if you submit a story, I will give you the portrait print of your choice for free! All you have to pay is $10 for shipping! If you missed the post explaining this series, you can read it HERE 🙂
Now be honest, show of hands, who else is still waiting for their Hogwarts acceptance letter?