"make believe" – a portrait series of women in the arts who have impacted my life, accompanied by my stories – and stories other people have shared with me – in an effort to champion the arts, build a community, gain strength through vulnerability, and heal
The Story
Magnetic. Watch a Greer Garson movie and tell me she's not mesmerizing. Try. There's just something about her that pulls you in and captures your whole attention. And I swear she can act an entire scene with just her eyes. (the camera pans to Greer's face and her expression changes ever so slightly and my friend and I turn to each other, "Did you just see that??")
I might be remembering this incorrectly, but until someone corrects me, this is my story, so… ; ) When I was growing up, my best friend's mom LOVED the Turner Classic Movie channel, and their family was able to record shows on the TV (which was fancy, at the time – I was suitably impressed), so there were always old black and white movies recorded on the TV. At some point, probably when we were in junior high, my friend's mom told us she had a movie recorded that we should watch – Mrs. Miniver. Now her movie recommendations tended to be hit or miss (do yourself a favor and don't watch Somewhere in Time, even if you love Jane Seymour), but we gave it a shot.
Good thing we did!
I could tell you all the reasons why I love Greer Garson, which of her movies are my favorite, why Greer and Walter Pidgeon are probably the best onscreen couple of all time, but this post is about the memories. About how I spent my time growing up, about time with my best friend, about the moments that end up shaping lives.
Looking back, it was probably that first viewing of Mrs. Miniver that started my love affair with old movies. And when I say "old movies" I mean black and white, 1930s and 1940s, the drama and intrigue and class. I'm sure my friend and I must have spent some time in high school watching movies made after 1980, but those aren't the ones I remember. And it's funny to me, with everything going on in the world and in my life right now, I can't always remember what I ate for dinner the night before. But I can look back to a time over a decade ago and know that I love, and will always love, old movies because my friend's mom suggested we watch a movie she'd recorded from TCM. And because of Greer. Obviously.
So those were the kind of movies I watched growing up, and I love that now whenever I watch any black and white film it comes with memories already attached. Memories of long summer nights and lazy winter days spent with my best friend and too much popcorn straight from the Stir Crazy and the largest plastic cups of ice water and falling asleep on comfy leather couches and waking up to waffles with applesauce and cinnamon.
The nostalgia in my apartment as I sit here writing this is so thick I can practically taste it. It's sweet and warm and laced with an undeniable longing.
Guess what my friend and I will be watching the next time we watch a movie together.
The Art
"Classic" – There's no doubt about it, I will always think of Greer Garson when I think of Classic Hollywood. And oh, the drama of it all ; ) I am selling prints of this picture, 9 x 12 in on heavy paper, and you can buy them in my Shop!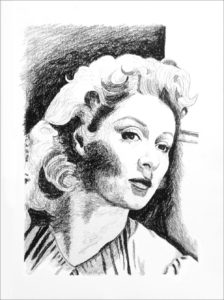 "That Golden Age" – I know Hollywood has always come with its own set of problems, no matter what the time period, but the movies of old, Classic Hollywood will always represent the Golden Age of film-making to me. There's just something about those old black and white movies that thrills my die-hard romantic heart! Greer Garson is the epitome of Classic Hollywood, and this painting captures that for me. 2 x 3 ft, oil on stretched canvas, also for sale in my Shop.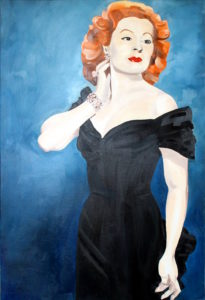 Until Next Time…
If you would like to contribute a story about how one of the ladies in my series has impacted your life, shoot me an email at elizabeth@byelizabethhope.com with the subject line "story time." Your story can be anything from how one of these women has impacted your life to how you relate to a fictional character one of these women portrayed or wrote about to a favorite memory you have of one of these ladies. There's no word limit, just let me know if you'd like me to quote your story directly or paraphrase it and if you'd like to be kept anonymous or not. I'll be sharing these stories in my Instagram posts and on my blog. And if you submit a story, I will give you the portrait print of your choice for free! All you have to pay is $10 for shipping! If you missed the post explaining this series, you can read it HERE 🙂
Alright now, I can't be the only twenty-something harboring a not-so-secret love affair with Old Hollywood. Who's your favorite actor from that time period? Or your favorite movie? I'd love some more recommendations! Or we can just fangirl over Greer and Walter. That'd be fine, too 😉