"make believe" – a portrait series of women in the arts who have impacted my life, accompanied by my stories – and stories other people have shared with me – in an effort to champion the arts, build a community, gain strength through vulnerability, and heal
The Story
I've been sitting here staring at my computer screen, messing with my phone, listening to Cher's greatest hits (I'm cool, okay?), and doing some A+ procrastinating for at least a solid hour now. First I feel like there's too much I could say about Carrie (which there is), then I find a focus but 5 minutes later change to a different one, and next comes the "I have absolutely nothing meaningful to say" phase. The cycle just repeats itself, ad nauseum.
I think I've just been avoiding what I really want to say.
But what kind of BS is that? At the top of this post I said that two of the goals of this series are to "gain strength through vulnerability, and heal." I can't expect to do that or build a community that does that if I'm not honest, with myself and with you.
So here goes. I really want to say: I'm still so heartbroken over Carrie's death.
There are approximately one million reasons to admire Carrie. The first reason being her role as Princess Leia, obviously. Or, as I prefer to think of her, General Organa. (but that could be a whole post on its own) Then there are the novels and movie scripts she wrote and the fact that she was a highly sought-after script doctor and her mental health advocacy – all of these so much more important than this short post can articulate. And really, what would any of that be without Carrie's one-of-a-kind authenticity and frank attitude and vulnerability and force of will? All of these aspects of Carrie's life have changed mine in one way or another.
But I've recently come to understand one of the biggest reasons Carrie's death hurt as much as it did, as it still does. Carrie passed away almost exactly 2 years after my mom did, and I hadn't realized until I started her section of this series that she helped me through a lot of my grief in those two years. It's true that Carrie and I had different issues, but she had gone through hell and come out the other side, so I could handle whatever life threw my way. She talked openly about her mental health issues without shame, so I could be honest about my mental health as well. In her real life – as well as in the roles she played and the ones she wrote – she wasn't perfect and her life wasn't perfect, but she could still fight for what she believed in and make a difference. I could do that, too! And no, life isn't easy, but showed me how to deal with it, one day at a time.
"Sometimes you can only find Heaven by slowly backing away from hell."
"Stay afraid, but do it anyway. What's important is the action. You don't have to wait to be confident. Just do it and eventually the confidence will follow."
"Take your broken heart, make it into art."
"There's no room for demons when you're self-possessed."
Carrie also found the humor in her life, and you have no idea how much I appreciate that. There are a few of her quotes that I repeat to myself when I hit rough patches, but this one is probably my favorite: "If my life wasn't funny it would just be true, and that is unacceptable." (from Wishful Drinking)
I have admired Carrie for a long time, but she meant so very much to me during the two years between my mom's death her own. When she died it was like losing a close friend or mentor. I'd never felt so bereft over the loss of someone I had never even met in person before. But looking back over what I've just written….
Amended statement: I'm still so heartbroken over Carrie's death, but her life continues to be a constant source of inspiration and strength!
And let's be honest, Carrie would absolutely hate being the source of this sentimental angst haha
Thank you, Carrie <3
I recently reached out to some friends and asked if anyone else wanted to share how Carrie has impacted their lives (because this art series is about community and supporting each other and saying THANK YOU and not being afraid to be real with each other), and here's what a couple of them had to say:
~~~
Sarah: She is a huge inspiration to me of what it means to be an independent, fiery women struggling with bipolar disorder. I've only recently been diagnosed, as most people who are diagnosed are in their 20s, and I find her interviews and books truly inspirational to me. She is the epitome of what I imagine when I think of a strong woman and always will be. Her fire has always inspired me to be more than just a princess and will continue to inspire me as I fight my own struggles.
Chris:
Let's chat about Carrie Fisher. I was ten the first time I watched Star Wars. I was, understandably, starstruck. Let's be honest, what ten year old isn't immediately in love with lightsabers, force powers, starships and Stormtroopers? Star Wars gifted me something else though; my first celebrity crush, Carrie Fisher.
Yes, I was the stereotypical male Star Wars geek who had a crush on Princess Leia. And no, I don't deny or feel bad about it. It wasn't for quite the same reason most boys liked her though. (See Return of the Jedi…. You know what I mean)
It was her spunk. Her strength. It was her smart mouth and that she was intelligent and cunning. She wasn't a damsel in distress. She shot more people then Han Solo (in my mind, anyway) and sassed everyone. As I got older, I came to a different conclusion. I wasn't crushing on Leia.
I was crushing on Carrie Fisher. When it came down to it, there was a lot of Carrie Fisher in that character. She was sassy and tough. She fought for causes that she believed in, like animal rights or the LGBT community, whether people wanted her to or not. She was strong enough to be honest about the darker things in her life, like her substance abuse issues. She was able to take that darkness and make people laugh.
Let me be frank here; Carrie Fisher broke me. As in, it's her fault I pursue the women I do. I'm not like many men my age who prefer women who are submissive and weak. (And some of them want "stupid girls.") I go for women who are strong. The more intelligent they are, the more attractive I find them. Sass me, PLEASE. Stand your ground when you believe in something, and I'm going to start planning the wedding and how many children we're going to have.
I blame Carrie Fisher for this. She was my first crush, and all of those attributes are in every woman I find attractive. Her effect on me has been enormous, and I thank her for it, every day. So, in the form of a Mandalorian warrior, shoot straight and run fast Carrie Fisher, wherever you are. Thank you for all you did.
~~~
The Art
"Hope" – I had to include a picture of Leia from A New Hope in the "make believe" series because honestly, is there a more iconic image in pop culture? But I also chose this image and the title because, in their own ways, Leia and Carrie have always – and will always – represented hope. And that's just about the most important thing in life. I am selling prints of this picture, 12 x 9 in on heavy paper, and you can buy them in my Shop!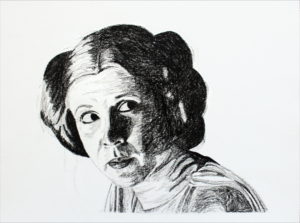 "just Carrie" – Sometimes I try to come up with clever titles for my art, and then other times I look at a piece and all I can think of is, "But that's just Carrie!" (p.s. there's nothing "just" about her!) Obviously it's Carrie, but everything about her pose, her smile, the mischief in her eyes screams Carrie. I'll never get over this singular human being. I have two prints for Carrie because 1) how could I choose just one?? And 2) I needed to include a picture of Carrie as herself, because although I love Leia Organa, Carrie was so much more than that one role. I am selling prints of this picture, 9 x 12 in on heavy paper, and you can buy them in my Shop!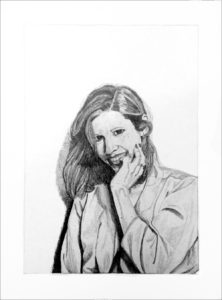 "Rise Up" – "Here comes the General…" (if you don't understand the reference, I would love to explain it to you 😉 ). 40 x 30 in, oil on stretched canvas, also for sale in my Shop.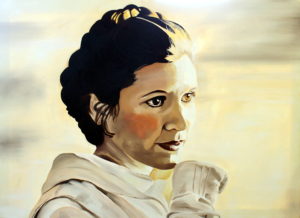 Until Next Time…
If you would like to contribute a story about how one of the ladies in my series has impacted your life, shoot me an email at elizabeth@byelizabethhope.com with the subject line "story time." Your story can be anything from how one of these women has impacted your life to how you relate to a fictional character one of these women portrayed or wrote about to a favorite memory you have of one of these ladies. There's no word limit, just let me know if you'd like me to quote your story directly or paraphrase it and if you'd like to be kept anonymous or not. I'll be sharing these stories in my Instagram posts and on my blog. And if you submit a story, I will give you the portrait print of your choice for free! All you have to pay is $10 for shipping! If you missed the post explaining this series, you can read it HERE 🙂
I'll leave you with a quote from Anne Thériault that she Tweeted shortly after Carrie's death. It has helped and motivated and encouraged me immensely over the past year, in many ares of my life. And if you have the time, go check out Anne's entire thread — it articulates so much of what I feel about Carrie (because I didn't cover nearly enough in this post!).
"May we all be able to get up every day and, in spite of our pain and loss and fear, put on our vest and boots and plan to destroy the empire."
[the stories shared in this post are in each person's own words, with only minor grammatical changes made]