"make believe" – a portrait series of women in the arts who have impacted my life, accompanied by my stories – and stories other people have shared with me – in an effort to champion the arts, build a community, gain strength through vulnerability, and heal
The Story
Queen B. Shenanigator. Briana Buckmaster.
From her role on Supernatural to her con appearances and social media presence to her chapter in Family Don't End With Blood, Briana's genuineness, sincerity, and energy are refreshing and contagious. You can't help but feel drawn to her and want to reflect the same kind of positivity! She's basically literal sunshine (and yes, I know what "literal" actually means, #sorrynotsorry).
When I think of the impact Briana has had on my life, words and phrases like confidence, body positivity, being true to yourself, and unapologetic come to mind. I recently reached out to the SPNFamily on Twitter and asked if anyone else wanted to share how Briana has impacted their lives (because I want this art series to be about community and supporting each other and saying THANK YOU), and here's what the fam had to say:
~~~
Lisa: [at a convention] I asked her to sign her character's name…. Not only did she write a nice note AS Donna, she even read it out loud in her Donna persona, with a Dear Lisa and her initials of BB at the bottom. That meant a TON to me, that she took the time for me that way.
Kat:
I'm a huge fan of Supernatural. Briana's character Donna appeared in several episodes. Donna was sweet, kind, and reeling from a break up. My favorite episode of hers, though, is the one where she teams up with Kim Rhodes. Now, Kim's character Jody has already proven herself to be badass and tough. But when she was unwillingly paired with Briana's Donna, I knew this had the potential for greatness. Their characters brought out the best in each other. Where Jody was tough and sometimes abrasive, Donna was gentle and firm. Donna was able to get more information and help their case because she was able to build bridges with her friendliness. It was cool to see the dynamic between the two of them without the jealousy or competitiveness that is typically played up in female characters.
I also loved that Donna was not the typical type of woman they cast on Supernatural. She was a bit curvier than the women they usually interact with but the boys never treated her as less than like they might have done on other shows. Jensen Ackles' character Dean tells her that she deserved more than the jerk who constantly criticized her. That's also reinforced by Jody in their episode, who stands up for her. Donna makes it clear she doesn't need the help defending herself, but it does bring her closer to Jody.
The other thing I love about Briana is the way she truly appreciates and communicates with her fans. The Supernatural cast is famous for their interaction with the fandom. Briana is always supportive and caring when it comes to her fans. It's really nice to see that from a celebrity. Briana is body positive and beautiful and gives me hope. We need more women like that on tv.
Hannah: She has shown me that it's okay to be me, to embrace myself & not change for anyone else. She has helped me realize that I am a strong woman.
Little Pop Workshop: She inspired us to start singing again…and to not let anyone else define who we are. That's been a slow process but she helped a lot.
Ash: She showed me how to be fearless & confident, how to be unapologetic in things important to me. Helped me stand up for myself. Inspired me to break the rules; helped me realize that I AM important & worth fighting for, I'm beautiful & talented & important.
Michelle: She helped me realize that I'm a strong woman, that my appearance doesn't define me. To stand for myself and that I'm worth of happiness <3
Jenn: Bri is my spirit animal. She is unapologetic about who she is. She makes me feel like a normal mother and woman. She has my heart always.
Jaimee: She has shown me to not be ashamed of my weight and that being overweight is not what defines me. It's given me more self confidence.
Stina: Met her at Rockwood last year and was absolutely smitten. Beautiful inside and out. Made me want to find ways to be more fierce.
Ing: She inspired me to not be self conscious and to be who I truly am, no matter what others might think.
Sinead: She has shon me that women can be strong, powerful, & badass. She has helped me be confident in my own voice and be sure of myself <3
Bridget: Her work promoting body positivity has helped me a lot in loving what I was born with.
Ackles: She helped me overcome fears that I did not know I had. She made me realize that I, as a young woman, am powerful.
Nevada: Love her. She's an everyday gal who stepped up to the plate when it got crazy. She is one of my faves!!
Tasha:
My first instinct when I think about Briana Buckmaster is to say "she makes me brave," but she would be pissed off and give me a funny look if I said that. Because she doesn't make me brave. But she sure as hell does show me that it's not as hard as my brain tells me it is. The first time I ever saw Briana it was at Seacon 2016. I adored her Saturday quad panel. But Saturday night she stepped on stage in a gorgeous red dress and sang her heart out, and I was inspired. I spent so much time after that listening to what she had to say because the words she used spoke life right into my soul. She said it's okay to be loud and it's okay to be different and people are going to tell you that you don't belong places but you can just tell them to fuck off. [quick note from me, Elizabeth: can I get an AMEN??]
I've been lucky enough to meet Briana on multiple occasions, and every single time she says something sweet and tells me she loves me and I know she genuinely means it. Her heart is so open to loving so many people, and she has opened it so far and wide for people in this fandom. In her panels and in her music and on her social media platforms she pours her heart out for us to see and trusts us to take care of it. She fearlessly presents herself to the world and doesn't hold back. And most importantly she reminds us consistently that it is 100% okay to be who you are. So Briana Buckmaster didn't make me brave. She was brave, and led by example.
~~~
So, Briana, from all of us to you: THANK YOU!! You keep on doin' you 😉
The Art
"#notmiserable" – Briana often uses #notmiserable in her Instagram posts, and I love it because every time I see it, it reminds me to slow down and recognize all the good in my life. Also, it's pretty much impossible to be miserable when Briana's around, soooo…haha I love her smile in this drawing — it looks like she just got away with something, which, letsbereal, she probably did 😉 The reference image for this drawing was graciously provided by the talented Karen Graham – thank you!! I am selling prints of this picture, 9 x 12 in on heavy paper, and you can buy them in my Shop!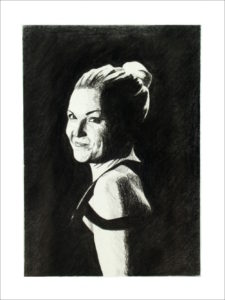 "wild" – Wild at heart, can't be tamed, strong, sunshine, love, wayward af — you get the picture, they're basically all synonymous for Briana 😉 The reference image for this painting was graciously provided by the wonderful Anne Kirn – thank you!! 3 x 2 ft, oil on stretched canvas, also for sale in my Shop.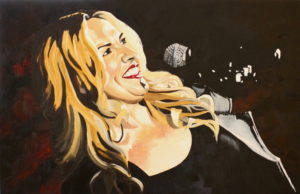 Until Next Time…
If you would like to contribute a story about how one of the ladies in my series has impacted your life, shoot me an email at elizabeth@byelizabethhope.com with the subject line "story time." Your story can be anything from how one of these women has impacted your life to how you relate to a fictional character one of these women portrayed or wrote about to a favorite memory you have of one of these ladies. There's no word limit, just let me know if you'd like me to quote your story directly or paraphrase it and if you'd like to be kept anonymous or not. I'll be sharing these stories in my Instagram posts and on my blog. And if you submit a story, I will give you the portrait print of your choice for free! All you have to pay is $10 for shipping! If you missed the post explaining this series, you can read it HERE 🙂
I'll leave you with a quote that I LOVE. It's been running through my head as I've been sitting here writing about Briana:
"Underestimate me.That'll be fun."
p.s. I definitely double and triple checked this post to make sure I didn't randomly start talking about Briana's uncle, the lesser known, spoken of fondly, Brian Buckmaster.
[the stories shared in this post are in each person's own words, with only minor grammatical changes made]